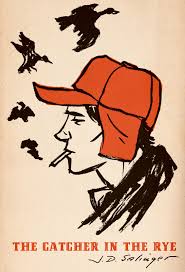 It's September and that means back to school for us all! I thought I would kick the new term off with some favourite text books of mine…
My 5 favourite books for personal transformation and growth
1. The Artist's Way: Julia Cameron
I first started the Artist's Way in 2001, I had just moved cities, was at a major crossroads in my life and it was like having a much-needed guide and friend. It was a life-changing and powerful process and helped relocate my creativity at the centre of my life. Years later I had the opportunity to do some in-person training with Julia Cameron which was also hugely inspiring. I recommend The Artist's Way to many of my clients and it is wonderful witnessing them transform too. I have used the daily tool of the morning pages for over 15 years now and wouldn't be where I am without this book!
2. The Catcher in the Rye: J.D. Salinger
This book was recommended to me when I was 13 and complaining that I was bored in an English literature class. My astute teacher handed me this and I was mesmerised from the first page on! Its focus on truth, integrity, and authenticity gave me hope, camaraderie and have inspired me for countless years over. Holden Caulfield was my first love!
3. You can heal your life: Louise L. Hay
This book changed my life as it clearly and lovingly draws the relationship between the mind and body and our past and present, placing the power back in our hands. The A-Z of physical ailments and their emotional foundations is a great go-to resource. I once read a forward which suggested it would be the only book required for life on a desert island and I think I might agree!
4. A Course in Miracles: Foundation for Inner Peace
I have been a student of A Course in Miracles for over a decade and the essence of its teachings – that only love is real – is flawlessly communicated in even 1-2 sentences of this book. I am inspired by how succinct yet epic and endless it is and the wellspring of healing types that have emerged from its teachings. If readers are interested in exploring this book I would recommend studying with a local group as the existential discussions, insight and healing that occur in-person are profound and deeply transformative.
5. Autobiography of a Yogi: Paramahansa Yogananda
Yogananda is an eloquent and graceful writer and this account of his life searching for his spiritual path and guru, his time with his guru and teachings beyond his guru are a beautiful and powerful insight into the foundings of Yoga and life in India. Even the chapter headings such as "The woman who lived on air" create magical impressions and the whole book speaks of the power of love, discipline and spiritual dedication.
Hope you find them inspiring too!