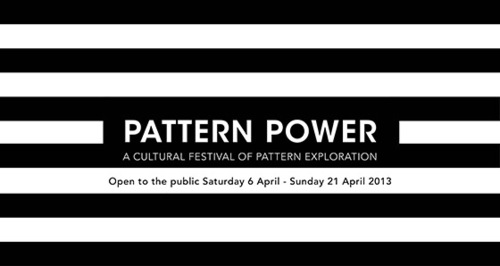 Rhona leads an EFT & Self-Confidence workshop for "Happy Patterns" a collaboration between PATTERNITY, Rhona and wellness leaders for World Health Day. Creating positive patterns of thought, empowerment and personal development.
For the month of April 2013 cult pattern pioneers PATTERNITY host Pattern Power / Superstripe – the first in a series of annual exhibitions and events exploring the powerful presence of pattern and it's ability to positively inspire and connect us all.
HAPPY PATTERNS | SUNDAY 7 APRIL 2013
Londonewcastle Project Space, Redchurch St, London E2 7DP
Other workshops: Superfoods by Raw Food Expert Kate Magic, Yoga from Natalie Mukusheva for Chaya Yoga and a Labyrinth talk and Gong bath from Faze Ali.
Read Jasmine and Melissa Hemsley's post about the day here: Feel Good Sunday
Anna Murray Co-Founder of PATTERNITY:
"What started as an exploration of visual patterns at PATTERNITY has evolved into an investigation into the unseen designs that surround us all. We've begun to dig deeper and explore non-visual patterns, such as patterns of the mind. We're particularly interested in exploring how we can increase our awareness of the behavioural patterns we fall into and how we can change these if they're not good for us"
"Research has shown that being more conscious of the world around you can have positive health benefits," explains Murray. "It's about increasing awareness of our environment, and thus increasing our mindfulness"
PATTERNITY is an award-winning creative organisation that specialises in the exploration and application of pattern. Founded by art director Anna Murray and surface/textiles designer Grace Winteringham with a united drive to push the awareness and understanding of pattern. Their unique research archive, design studio and events go beyond the surface, using pattern as a vehicle to engage, educate and inspire.
"Spend a few moments at PATTERNITY and you'll look at the world through fresh eyes" – Wallpaper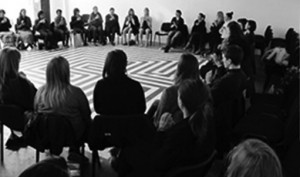 Rhona leading EFT & Self-Confidence workshop at PATTERNITY, London